As most of you know, tomorrow Apple is going to make an announcement. How big or little this announcement is depends on who you listen to, but most people tend to agree that the meat of the show will be the unveiling of the much rumored Tablet.
However, I'm wondering if it is going to be more than just a "tablet".
To me, a tablet, something between the iPhone and the MacBook just makes no sense to Apple. Sure, there's lots of those already, and I'm sure some of them make money, but for Apple to get involved with it, there has to be a market. They just don't go and create things willy-nilly and hope for the best. They KNOW (or think they know) that something is going to work before they share it with the rest of us.
That means that this "tablet" is going to have to have some killer functionality to it in order to distinguish it from all the other ones already on the market.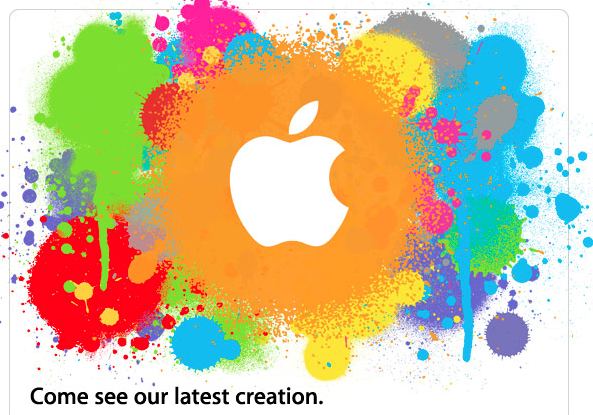 Looking at the logo for the upcoming event I think I have an idea of what it might be. You know me, I can't not analyze something…
Looking at the shape of the logo, it appears to be in a tablet shape. Ok, that's kind of a no brainer.
It's also covered with paint splotches. Colorful, isn't it? But wait, these look…well purposeful.
Also note that said splotches are NOT finger paint. Which one would expect with a tablet "ad", as you interact with a typical tablet with your fingers.
What this suggests to me is that this tablet is going to have an optical recognition software where you interact with the device by looking at certain parts of it.
Now, before you say I'm crazy, here's my thinking:
I'm a User Experience (UX) professional for a living. My job is to make software and websites that people can use easily, and enjoy using. A byproduct of this is that I look at an awful lot of heat maps, which are illustrations created by special cameras that track eye movement and mark on the page where people are looking. This helps us as UX Architects to determine where to put items on the page so people will find them. Here's an example.
Now, look at this heat map and go back and look at the "Latest Creation" ad. Looks kind of similar, doesn't it? And notice where the largest splotch of paint is? Right on the Apple logo.
So, I may be WAY off base here, but I think tomorrow we're going to see the beginning of optical input computing on a large scale.
We'll see if I'm right. Check me tomorrow…
EDIT: 27 January 2010
Well, I was wrong. Too bad. I would have liked to see that. Regardless, I'll still buy one.