Hi, I'm Jon Reily. Pleased to meet you.
So, this being a "me" page, I suppose a little about me is in order, eh?
I am a User Experience professional, and have held a lot of roles in my career. I have been a technical writer, systems analyst, systems manager, pre-sales engineer and technical manger (or some combination thereof, I'm a utility player with a wide gamut of skills) for the last 20 years. I've had more than 25 pieces on Linux, Mac and Windows software published. I also authored a technology focused newspaper column for many years.
I was born 9 October in Sleepy Hollow, New York, USA (yes, the same Sleepy Hollow as the Washington Irving story). I am the youngest of 11 children, and I've lived in New York, England, California, Washington, Arizona, and Oregon.
I grew up in Buckinghamshire, New York and California. When I left California with everyone else in the great emigration of the early 90's, I moved to Seattle, Washington where I lived off and on for a decade or so. After that I baked in the Sonora desert for about 8 years. I currently live in southern California, with my wife of 20 years, Pamela, and our cats; Gwen, Emme, Ally and Benny.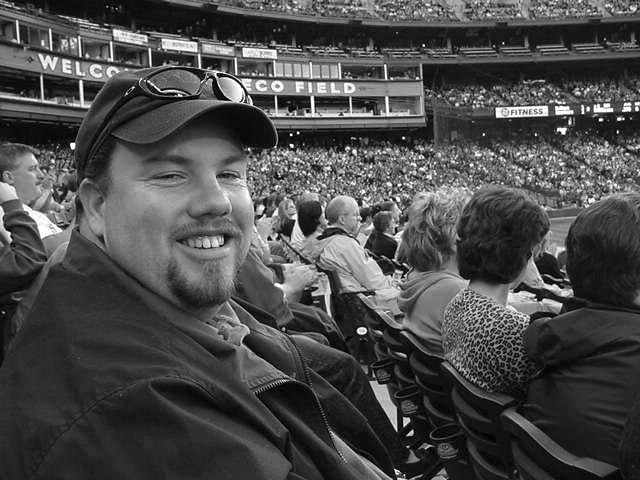 Interests wise, my hobbies are reading, writing, listening to music and silence. I really enjoy medieval English history, science (specifically astronomy, physics and quantum physics) digital photography, cryptography, geography, computers (obviously), traveling (I have been to 36 countries and all but 2 states), books (both reading and collecting), music, playing the guitar and the keyboard, attempting to teach myself esoteric languages (currently Esperanto and Lojban) and meeting new people (both in person, and on the internet). I've also done a lot of cool things in my life.
As for the rest of me, if you must know: 5'7″, 200+ pounds (175 cm, 90+ kg), wavy brown hair (if I let it grow long enough to be wavy, that is) with some touches of gray on the sides, green-gray eyes, and glasses when I feel like wearing them, which is rare but becoming more frequent as I age. Exactly what image of me that will confer in your mind is not the province of my control…I'll leave that up to you.